We are all guilty of telling ourselves "Ill get to that next week" or "I will deal with that later." Well eventually is NOW. These 5 steps are going to help you move forward in your life and home while also giving you tips for keeping it that way in the future.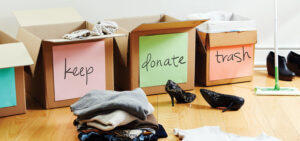 Step 1: Stop Beating Yourself Up
You are busy, raising kids, working, taking care of loved ones, etc.. You are only able to give so much of your mental, emotional and physical wellbeing. The important thing to remember is this is normal, and to not beat yourself up about it.
Step 2: Accept That You Are a Different Person Now, and That's Okay
Let's talk about the items in your house, taking up space and just making you feel bad. If you are hanging on to things because you "used to love it", then that is when you know it is time for it to go. It is time to get rid of the things that make you feel bad every time you see it in your house. If you desire it later, you could always get it again. An important rule for a clutter free home is to only surround yourself with things active in your life and make you feel good.
Step 3: Reset Your Boundaries
If you ask yourself "is it worthy to me?" and the answer is yes, then deem it acceptable to be near you. You are the Queen/King of your home so if it doesn't make you happy, then it just simply has to go! If it is taking up space physically, it is also taking up space mentally.
Step 4: It Hurts…But Only For a Little Bit
You know the term "it's going to hurt before it gets better", it is sad, but true! Dealing with clutter and moving forward is hard work but there is relief on the other side that will feel so much better. You just have to do the work and deal with it. It will help if you do it on your terms, set a date and time frame. And find a way to make it fun whether that means with music, a favorite movie in the background, or wine!
Step 5: It Is Okay to Be Disorganized, in Moments
What?? Yup, you read that right! When you are living life, life happens… all over your house. That is when it is okay to allow yourself to be disorganized. However you must regain control and take the time to reset Put it back where you found it and only pull out what you NEED. This means everything needs to have a place for this to work. You will reset your life when you reset your home.
Do you need help moving forward? Another Opinion can give you just the push you need to take control of your life and home again. Call Staci today at 314-623-4594.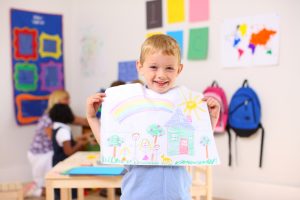 We talk about giving ourselves permission to let go of things to avoid being overwhelmed in clutter. Well, we also need to start teaching our kids this same lesson. Now that school has started, the artwork and projects they bring home are quickly piling up. Here's how to use these treasures to teach a valuable lesson about appreciating our things and then letting them go.
Create a Mini-Museum for Displaying Their Artwork
Create an intentional place in your home to be their artwork museum. Find the perfect room or wall space to set up a revolving display that you can change easily. You can use a tension string to clip on, a cork wall to pin up, empty frames or lots of fun ideas to display their work. Once you've set up the display, your kids will get excited about showing off their masterpieces! Now, getting their work home in good condition… that's a challenge.
Treat Their Artwork Like a Masterpiece
When your little artist knows their creations will be on display, hopefully they will show extra care to get it home in one piece. Try to avoid the blackhole of the backpack! How about giving them a unique folder to use that helps them treat their work as special while protecting it on the journey home. As each new piece arrive home, post them up for all to see.
Give Your Museum a Limited Timeframe
More artwork is on the way, so determine a timeframe for how long you will keep adding to the current display. It can be a week, a month, or as long as you have space to fill up. Let your kids know their creations will not be on display forever, and by taking them down will make room for more beautiful things they'll be creating soon.
Take a Moment to Celebrate
This is the best part! At the end of the timeframe, take an intentional moment as a family to view the artwork on display. Ooh and ah over each piece. Have them to tell you about it and, in turn, share what you love about their creations. After you've celebrated all of their hard work, it's time to take the display down. But, before you trash it, you have a few options!
Making 'Letting Go' a Little Easier
Letting go of our things is hard, even as an adult. Let your kids (and maybe you too) select their favorite piece of artwork to keep. Remember, it's ok to keep some things, just in moderation so you aren't overwhelmed. Another great idea is to photograph their projects to create a photo album. It's a much smaller way to collect memories than multiple storage bins in the basement. Or, have your kids re-invent their artwork into something else for a fun craft project and learn how to repurpose it!
You have an awesome opportunity while your kids are young to teach them how to let go. So, now is a good time if you want to avoid a stack of storage bins full of crumpled projects that I assure you, your kids will not want when it's time to move out.
Are you overwhelmed? Give me a call, I'm happy to help. Staci at Another Opinion 314-623-4594.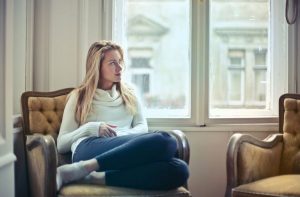 Have you ever stopped to think about how your home makes you feel? It's a very important question. Your overall wellbeing is directly affected by the condition of your home. If you struggle with clutter and home organization, then you certainly know the feeling of a toxic environment. It's time for a dose of self-awareness. It's time to reset by connecting your lifestyle with your home. Here's how to be more comfortable in your home!
First, recognize your feelings
Are you stressed with an unorganized home? Do shut down when you see piles? Have you stopped inviting friends over? Worried that you're teaching your kids bad habits. When your home negatively impacts your life, you will feel it mentally, physically, emotionally and financially.
Next, learn more about yourself
At one point, your home was organized, and it felt good. But as daily life happens, it's easy to neglect. To keep your home running smoothly it must remain current with your active life. So, look closely at the piles and pay attention to your patterns. Consider what changes you can make that will positively impact the organization of your daily life. Then, take the time to reset your home.
You've heard of creating 'homes' for your belongings
Make your 'homes' easy to commit to, so that you can expect and trust that items will be where you need them. Try to connect the activities in your home with the people who do them. Also, connect the location of items with the path they move throughout your home. When you take the time to connect your home with your lifestyle you will find a more peaceful environment.
Now, you can nurture a home that makes you feel good
When you nurture your home, you're fostering change as it happens, so that it will remain current with your active life. But you still have to commit to self-awareness. When you see a pile creeping up, take time to notice and reset the 'homes' if necessary. If you nurture your home you will certainly feel it. And the next time you think about the way your home makes you feel, you'll have an answer…  such as, relaxed, calm, grateful, confident, happy, peaceful ….
Get Help From A Professional
Don't be afraid to call a professional to help you get started. An outsider's perspective will give you clarity and keep you motivated to get your project completed.
Another Opinion will help you reclaim spaces in your home and find relief from overwhelming stuff. Contact Staci to start transforming your life!