How to Teach Your Kids About Letting Go Using Their School Projects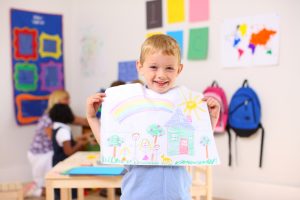 We talk about giving ourselves permission to let go of things to avoid being overwhelmed in clutter. Well, we also need to start teaching our kids this same lesson. Now that school has started, the artwork and projects they bring home are quickly piling up. Here's how to use these treasures to teach a valuable lesson about appreciating our things and then letting them go.
Create a Mini-Museum for Displaying Their Artwork
Create an intentional place in your home to be their artwork museum. Find the perfect room or wall space to set up a revolving display that you can change easily. You can use a tension string to clip on, a cork wall to pin up, empty frames or lots of fun ideas to display their work. Once you've set up the display, your kids will get excited about showing off their masterpieces! Now, getting their work home in good condition… that's a challenge.
Treat Their Artwork Like a Masterpiece
When your little artist knows their creations will be on display, hopefully they will show extra care to get it home in one piece. Try to avoid the blackhole of the backpack! How about giving them a unique folder to use that helps them treat their work as special while protecting it on the journey home. As each new piece arrive home, post them up for all to see.
Give Your Museum a Limited Timeframe
More artwork is on the way, so determine a timeframe for how long you will keep adding to the current display. It can be a week, a month, or as long as you have space to fill up. Let your kids know their creations will not be on display forever, and by taking them down will make room for more beautiful things they'll be creating soon.
Take a Moment to Celebrate
This is the best part! At the end of the timeframe, take an intentional moment as a family to view the artwork on display. Ooh and ah over each piece. Have them to tell you about it and, in turn, share what you love about their creations. After you've celebrated all of their hard work, it's time to take the display down. But, before you trash it, you have a few options!
Making 'Letting Go' a Little Easier
Letting go of our things is hard, even as an adult. Let your kids (and maybe you too) select their favorite piece of artwork to keep. Remember, it's ok to keep some things, just in moderation so you aren't overwhelmed. Another great idea is to photograph their projects to create a photo album. It's a much smaller way to collect memories than multiple storage bins in the basement. Or, have your kids re-invent their artwork into something else for a fun craft project and learn how to repurpose it!
You have an awesome opportunity while your kids are young to teach them how to let go. So, now is a good time if you want to avoid a stack of storage bins full of crumpled projects that I assure you, your kids will not want when it's time to move out.
Are you overwhelmed? Give me a call, I'm happy to help. Staci at Another Opinion 314-623-4594.