Posts Tagged 'do it yourself projects'
All About Paint Finishes: In the Eye of a Professional Painter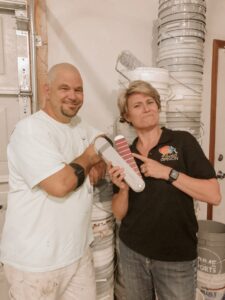 Another Opinion recently sat down with professional painter, Adam Cook with AMC Coatings to learn all about paint finishes in the eyes of a painter. The options are endless, and the terminology can be confusing, so let's hear what he had to say!
Types of Paint
Let's start with FLAT paint! Flat is a versatile paint type, usually used on walls or ceilings. There are many finishes; dead-flat matte, matte, a water-based eggshell and silk. Flat can also be used on the exterior since it helps the material when it comes to moisture. If you are in the market for some new paint and aren't sure what type is for you; flat is the way to go if you love the matte look!
Now on to EGGSHELL. Adam typically uses eggshell for walls. This type of paint has a slight sheen, so if the matte look isn't your style, eggshell may be the type for you! Eggshell is also more durable, so it is the ideal type of paint to use when there are kiddos around! Because let's be real, we all know kids love to showcase their art skills on the walls from time to time…
The last 2 types of paint Adam told us about are GLOSS and SATIN. Adam recommends gloss anytime he is painting trim, since this type is typically used on wood surfaces. Satin is used the same way as gloss but is just a bit less shiny. The good news about gloss is usually only one coat is needed over a coat of primer.
Ready to Paint?
Adam was extremely helpful in gaining our knowledge when it comes to paint and when and where to use it. So, whether you are picking up that paintbrush yourself or want someone else to take the work off your hands; ask Another Opinion! We can get you in touch with the perfect painter or steer you in the right direction if you want to do it yourself! Call Another Opinion to get started on your project today at 314-623-4594.