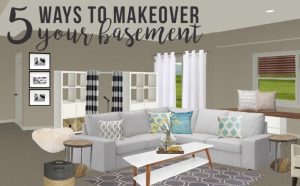 Basements can either be a great place to hang out, or they can become a forgotten appendage of your home where old and broken things go to be "dealt with later" (i.e. forgotten about completely). If you've been thinking it's time to give for a basement makeover and you're ready to roll up your sleeves, we have some tips to help you do-it-yourself.
Purge
Because basements tend to be a magnet for all the old items we put off dealing with, the first thing you'll need to do is get rid of all of the excess stuff. Letting go of the items you had forgotten about/haven't used or fixed in months will free up space and allow your basement to be more useable. Then tidy up what stays so you can start to create the basement of your dreams.
Separate It into Zones
This is particularly important if you have a large, sprawling basement. Break it up into different areas: a viewing area, an exercise area, a game area, etc. Decide before you start working what's going to go where so you have an idea of the kinds of colors and furniture you'll want in each area, as well as how you'll want to arrange it.
Paint
Nothing says "makeover" like paint. It's the cheapest, fastest way to make you feel like you have an entirely new basement. You can paint it all one color or choose different colors for the zone areas. Use paint to create a themed basement design if you're wanting something truly unique.
Upgrade the Floors
Improve that basic concrete floor. There are multiple options to choose from including staining the concrete, which gives you practically limitless options for colors and designs. For a warmer feel underfoot, consider carpet tiles that are changeable, easy to clean and allow you to create fun patterns or keep it neutral to appear like wall-to-wall carpet. If your basement is susceptible to water issues, then a vinyl plank/tile flooring is the way to go. In addition to being waterproof, it's easy to install, cost effective and you can select a wood or stone look to compliment the overall design.
Don't Forget the Lighting
Lighting sets the mood in every room, and it's especially important in the basement, where smaller windows provide minimal light. Select recessed can lights or low-profile pendant fixtures to spread light throughout and make the space appear bigger. For a different approach, check out the faux window fixtures that give a view of outdoor. Try to include different types and light levels in your makeover, it will help to make your basement feel more comfortable, like a living room.
For any makeover you're considering for your home, remember that small changes can make a big difference. You don't need to spend a fortune redecorating to feel like you have an entirely new space. Another Opinion can help you plan and select everything you need to do-it-yourself and complete your basement makeover. Contact Staci today to get started at 314.623.4594!