How to Find Inspiration for Your Home Remodel Project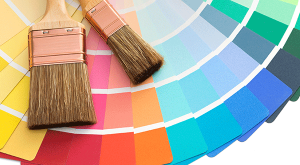 Have you ever looked around your home and just thought, "Bleh!" Whether your décor is out of date, or you just can't stand to look at that wall color anymore, there are a variety of ways you can find inspiration to create a new and fresh design for your next project.
Color Palettes Give You The Big Picture
Selecting a new color palette is the easiest way to give a space a whole new look. Consider color selections for everything from the walls to the furnishings, to the floor when making your color selections. Take home color palette booklets from your local paint store to show you a collection of colors that work together. You can look at each shade in your own light and coordinate them so the space feels complete.
Décor Can Take The Lead
Sometimes a simple piece of décor will just speak to you. Has a throw pillow ever jumped off the shelf at you, artwork or the pattern on an area rug catch your eye? This is inspiration! You can build an entire room design around a single item that moves you. Use complimentary colors and patterns to balance the inspiration with the rest of the décor.
Natural Materials
Only nature can provide truly unique and one of a kind inspirations. Materials such as wood, stone, metal, leather and even greenery, add a layer of color and texture in a space that cannot be achieved by anything man-made. It's easy to be inspired by natural elements simply by admiring the way it was created by nature.
Do You Want Another Opinion?
It might be difficult to imagine anything different in your space if it's been around for a while. Once you find your inspiration however, the design decisions will become easier. Call Staci at Another Opinion if you could use a fresh perspective on the design of your next project. Her clients fall in love with their spaces again by discovering what they admire and moves them, then creating a complete design.
Let's get started, contact or call Staci today at (314) 623-4594.