Posts Tagged 'spring cleaning'
Cleaning with Covid
Covid and cleaning..the two words we have all been hearing way more than we would like for the past few months. We know how to stay healthy when out and about, but what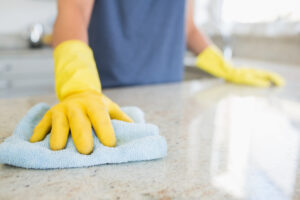 about the germs in our own home?Surfaces can also carry these germs and they can survive on them for long periods of time. During these times of Covid-19, letting someone into our home to clean for us, may not be the wisest decision. Here are some tips for Cleaning with Covid.
Surfaces to Focus On
To state the obvious, you should focus on the main areas of your house that are touched the most. This may include countertops, remotes, doorknobs, toilets, light switches and computers. It is recommended by the CDC to not only clean but disinfect on a regular basis to help prevent the spread of Covid-19 and other germs.
How to Clean and Disinfect
Cleaning means reducing the number of germs and dirt using soap and water, while disinfecting means killing the germs on surfaces with chemicals. It is important to remember to wear gloves when either cleaning or disinfecting. When it comes to the mostly used surfaces stated above, diluted bleach is recommended. When trying to make a surface germ free, it is recommended to start by cleaning the surface and then disinfecting it right after.
Soft Surfaces
We often can forget that our floors can also carry these germs. When it comes to our carpet, rugs and even drapes these items should be cleaned with soap and water, and laundered it possible with warm water.
We at Another Opinion hope that you and your families are staying safe and healthy during these times!
Sources: https://www.cdc.gov/coronavirus/2019-ncov/prevent-getting-sick/disinfecting-your-home.html
https://www.cdc.gov/coronavirus/2019-ncov/prevent-getting-sick/cleaning-disinfection.html
We are all guilty of telling ourselves "Ill get to that next week" or "I will deal with that later." Well eventually is NOW. These 5 steps are going to help you move forward in your life and home while also giving you tips for keeping it that way in the future.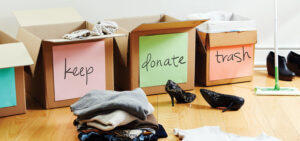 Step 1: Stop Beating Yourself Up
You are busy, raising kids, working, taking care of loved ones, etc.. You are only able to give so much of your mental, emotional and physical wellbeing. The important thing to remember is this is normal, and to not beat yourself up about it.
Step 2: Accept That You Are a Different Person Now, and That's Okay
Let's talk about the items in your house, taking up space and just making you feel bad. If you are hanging on to things because you "used to love it", then that is when you know it is time for it to go. It is time to get rid of the things that make you feel bad every time you see it in your house. If you desire it later, you could always get it again. An important rule for a clutter free home is to only surround yourself with things active in your life and make you feel good.
Step 3: Reset Your Boundaries
If you ask yourself "is it worthy to me?" and the answer is yes, then deem it acceptable to be near you. You are the Queen/King of your home so if it doesn't make you happy, then it just simply has to go! If it is taking up space physically, it is also taking up space mentally.
Step 4: It Hurts…But Only For a Little Bit
You know the term "it's going to hurt before it gets better", it is sad, but true! Dealing with clutter and moving forward is hard work but there is relief on the other side that will feel so much better. You just have to do the work and deal with it. It will help if you do it on your terms, set a date and time frame. And find a way to make it fun whether that means with music, a favorite movie in the background, or wine!
Step 5: It Is Okay to Be Disorganized, in Moments
What?? Yup, you read that right! When you are living life, life happens… all over your house. That is when it is okay to allow yourself to be disorganized. However you must regain control and take the time to reset Put it back where you found it and only pull out what you NEED. This means everything needs to have a place for this to work. You will reset your life when you reset your home.
Do you need help moving forward? Another Opinion can give you just the push you need to take control of your life and home again. Call Staci today at 314-623-4594.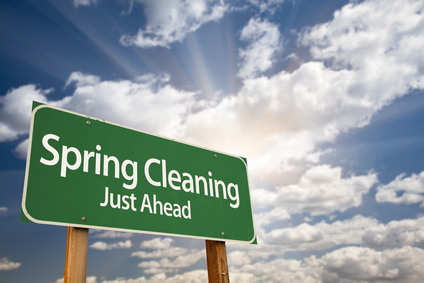 Whether you've read The Life-Changing Magic of Tidying Upor seen the Netflix original, "Tidying Up," (or neither) you've probably heard of Marie Kondo. She's been changing the lives of people all over the globe, and it's not by accident – there really is something to the idea that cleaning up and decluttering our space can help us live happier, more fulfilling lives. Of course, you can declutter whenever the mood strikes you, but with spring coming just around the corner, it's a great time to get rid of some of the old things you never use anymore while also doing some spring cleaning.
Love Your Less
You've probably heard the phrase "less is more," and although it's not always true, it certainly can apply to your home, because the less you have, the more you enjoy what you do have. To test this theory for yourself, I challenge you to choose two items from any category of which you have more than two items. Whether it's mugs, purses, or anything else that might be taking up space in your home without getting much use, try getting rid of all but two of them and see how you feel afterwards.
Not only is it easier to stay organized when you keep your collections to a minimum, but it also means you get the most out of the items you do keep, making sure you get your money's worth for the items you paid for and that you fully appreciate the items that were given to you as gifts.
The Fix-It Box
Not all items have gone unused because they have duplicates. Sometimes things break and we don't always get around to fixing them. So, while you're decluttering your home and coming across these items you haven't gotten around to fixing, put them in a separate box to be fixed later. Once you're done with your spring cleaning and decluttering, tackle that box next instead of leaving it to sit around and gather dust for a few more years until your next big cleaning/decluttering spree. If there's anything in there you can't fix yourself, take it to someone who can. Any items that are beyond repair go in the recycling or the trash (remember to recycle your electronics and batteries).
On the other hand, if they've gone a significant amount of time without being used (months, or even years) it might be time to just throw it out or donate it. If you didn't miss it when it was broken, you won't miss it when it's gone.
The Put-Away Box
While you're cleaning and decluttering, you're bound to find some things in places they don't belong. Whether it's a mug hiding in the bathroom cabinet or hair clips in your jewelry box, you need to resist the urge to stop what you're doing to put those lost items away, because once you get distracted, you're much less likely to finish the task at hand. Use a Put-Away Box to place all those lost items and go back to cleaning up. Once you're done with your spring cleaning and decluttering, only then should you take the time to put away all the lost items you found.
Another Opinion Helps You To Love Your Less
Whether you need some tips on organizing to keep your home clean and welcoming, or you want some help sorting your belongings into keep, donate, and discard, give me a call me at (314) 623-4594 or contact me so we can get you started today on creating a space that allows you to live a happier and more fulfilling life.