Give Your Home A Wow Moment – Tips For Adding A Design Feature
Give Your Home A Wow Moment – Tips For Adding A Design Feature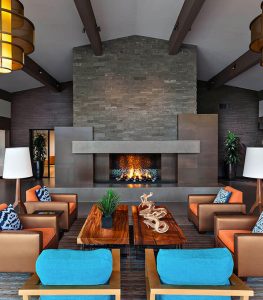 Is your home's interior design feeling a little flat and boring? Are you missing a WOW moment? If so, it's time to add a design feature to punch up your space! You can easily create a design feature in any room of your home, you just need an idea and a step outside your comfort zone. Here are a few tips to get you started with adding some WOWZA in your home!
First of all, what is a design feature?
It's that something that catches your eye in a room, and you say, 'oh, that's cool'. A design feature can be the focal point of the room, such as a fireplace, that commands your attention. Or, it can be a conversation piece that adds a bit of whimsy, like a unique piece of furniture or a dynamic light fixture. Usually a design feature is an unexpected design element, so you might need a 'no fear' attitude to realize your vision. I say, think big!
Reinvent something to make a big impact
You can make a big impact by changing the face of something that already exist in your room. Your fireplace is a perfect opportunity to create a new design feature in your home. Paint the brick! Or, add a stone veneer and take it all the way up to the ceiling! You'll be surprised by how one change will give your room a whole new feeling. Have you ever thought about changing your baseboards and trim to a dark paint color instead of white? How about hearing a visitor 'oh and ah' when they see how you've wrapped your kitchen island with a new fascia material too. Consider the many ways you can reinvent what you already own!
Create a design feature with special materials
Choose from natural stone, wood, metal, wallpaper, paint techniques, the list is endless of the types of material options you can use for a design feature. A bold special material can add warmth with texture and have a modern vibe with a glossy finish. How do you want the room to feel? The answer will help you choose the perfect material for your design. Now to decide 'how' and 'where' to use it.
Make your feature a surprise
It's so fun when a design feature is a surprise, so try to catch us off guard. Wallpaper makes an excellent surprise when it's tucked in the back of a bookcase. But, on the ceiling in your dining room… oh my! And strategically placing some whimsy in your design will add some humor. Try artwork or an accessory that we'd never expect, it can be exaggerated or even silly. Anything goes when you're creating a wow moment!
Go for it! It's time to make a change if your home is feeling boring. A new design feature is just what you need and the ideas are endless. Call Staci at Another Opinion for help adding some WOWZA in your home today! 314-623-4594