3 Worst Gifts You Can Give Someone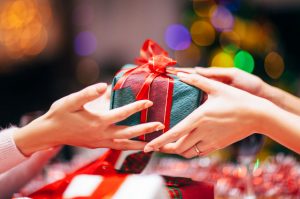 From the perspective of a purge and organize consultant….
I often work with clients who struggle with letting go of gifts they have received over the years. Even when those gifts do not relate to their current lifestyle, or they've become a burden to hang on to. There is a sense of guilt most of us acquire when receiving gifts. So, I encourage you to be a thoughtful gift giver by considering the wellbeing and home of those you are shopping for this holiday season.
Give less stuff. It's easy to fall into the trap of the hottest trend craze. Or keeping your list simple by just picking up yet another one of those collectable items you think they want. And when you forget to get a gift, there is always a quick option that's usually already wrapped. Well, I am a firm believer in LESS IS MORE, and that we can truly appreciate what we dohave when we have less of it. Gift giving is more than 'a thought that counts'. For the receiver, tangible gifts accumulate more stuff, but more importantly can affect us emotionally for years to come.
Here are a few gifts to avoid giving. We see these items often when helping clients 'let go' while purging their belongings:
Trinket boxes
Pretty on the outside, but a mystery on the inside. Yes, they are an easy purchase and fit a wide range of folks on your list with various shapes, sizes, colors and themes. However, once the lid closes the contents are often forgotten.
Knick knacks
These dust collectors are the foundation of clutter. A few collectibles here and there on the tables and bookcase can quickly turn into an excessive situation simply by gift giving. Limiting the gifts you give that add to someone's collection will help avoid overwhelming their home.
Generic gift sets
You know those pre-packaged sets at the end of the aisle in the store. They usually include 2 mugs and hot cocoa, or baking tools and cake mix. They're great for a last-minute grab when you forget a gift, but often end up becoming trash or re-gifted. Not many of us can fit more mugs or kitchen tools inside our cabinets.
What to Give Instead
When you're buying this season, think about what happens to those gifts after the celebration ends. Will it sit on the shelf or get lost underneath other things? How about changing it up this year! Give gifts that create memories, such as an experience. Better yet, experience something withthe person you are giving to. Or give a digital gift certificate for them to purchase exactly what they want. Ultimately by giving less stuff, the real gift you're giving them is a clutter free and peaceful home!
If you or a loved one is struggling and could use help finding relief from excessive stuff, please contact Staci at Another Opinion 314-623-4594.